The Shaftmoor Lane site is ideally located for a retail led mixed use development being within a predominately residential area and close to local facilities at Fox Hollies. The site is accessible by public transport with local bus services passing the site on Spring Road and Shaftmoor Lane and trains to and from the city centre stopping at Spring Road Station adjacent to the site.
The scheme is designed to be accessible by all modes of transport and the proposals include a package of off-site highway improvement works that will benefit residents of and visitors to the site as well as the wider local community. As part of our proposed highway safety improvements, we propose to:
Widen the pedestrian footway on both the north and south sides of Spring Road and provide improved pedestrian crossing facilities, including a new zebra crossing adjacent to the railway station.
Provide new traffic signals at the Spring Road/ Shaftmoor Lane junction, to ease congestion and address existing road safety issues.
Providing shoppers parking on Olton Boulevard East.
Provide new pedestrian crossing facilities at the junction of Spring Road with Shaftmoor Lane.
The package of improvements are designed to enhance the accessibility of the site and provide additional capacity on the local road network so as to address existing congestion issues and accommodate traffic associated with the redevelopment proposals. A detailed Transport Assessment will form a part of the planning application submission.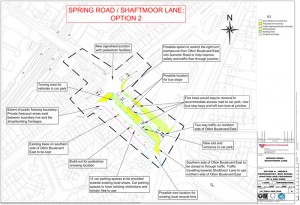 Click image to enlarge